What grows by 88% per year?
Imagine you had EUR 1000 today. Is it possible that you become a millionaire in 10 years by just capitalizing on the interest? -- Only if the interest is around 100% per year.
Well, in the field of supercomputers performance has grown consitently at a rate of around 88% per year for 12 years - circa 2000 times over since 1993. The rate of growth in this area is twice that of single processor performance which is 40%-50% per year. I find this amazing.
Top 500 supercomputer sites list
Highlights of the 26th Top500 List (Erich Strohmaier)
Posted by boyan at
08:15 AM
|
Comments (0)
I want one of these
Eclipse 500 Very Light Jet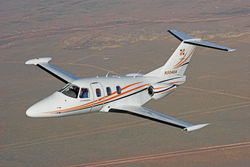 ... My birthday is on 8th of July in case you wondered.
Posted by boyan at
10:32 AM
|
Comments (0)